Grand Canyon Tour From Las Vegas
Grand Canyon
West Rim & Helicopter 6 in 1
DETAILS & TIPS
On this ground and helicopter combination tour, enjoy all the splendor of the Grand Canyon and experience Native American culture.
If you're ready to spend the day at the West Rim of the Grand Canyon and get a glimpse of all its splendor, then this trip is for you.
During this ground and helicopter combination tour, you'll get to see:
The incredible 900-year-old Joshua Tree Forest.
Eagle Point, which is home to the "Eagle in the Rock" carving and the world-famous Skywalk.
Guano Point, offering stunning views of the Grand Canyon to the east and north.
Hualapai Ranch and an authentic western town.
The magnificent Hoover Dam.
Aerial views of the Southwest by helicopter (approximately 15 minutes).
In addition, the tour includes a romantic picnic lunch at the canyon's rim. See a live Native American ritual dance while you eat and relax. You may also stroll the world-famous Skywalk ($30 option), a transparent horseshoe-shaped bridge that juts out over the edge of the Grand Canyon. Continental breakfast, lunch, unlimited bottled water, and snacks are included in this tour. You'll ride in a luxury seven-passenger SUV or a custom 14-passenger VIP mini coach from your hotel to Grand Canyon round-trip.
---
Locations: Grand Canyon, Hoover Dam.
Tour length: 630 minutes
Air time: Approximately 15 minutes.
Transportation type: Helicopter, SUV.
Meals included: Continental breakfast, lunch, snacks, bottled water.
Special requirements: None.
Tour Times: 7:00a.m.
Prices From: $452.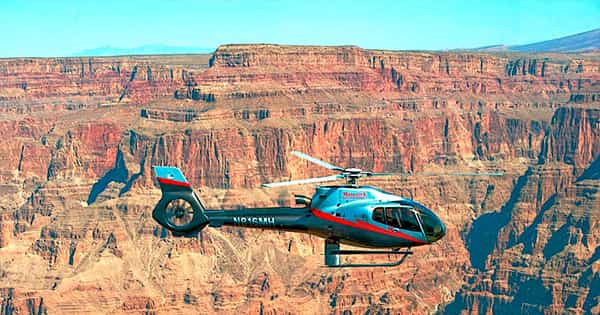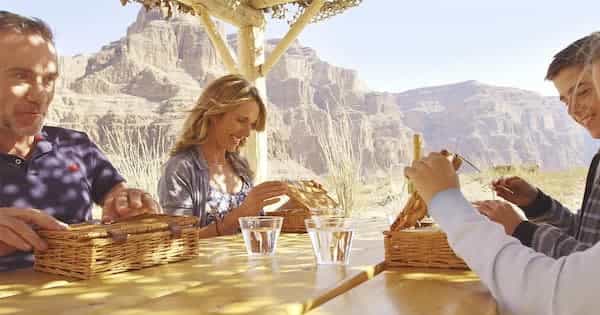 Grand Canyon Tours
from Las Vegas

Grand Canyon is in the northwest corner of Arizona, close to the borders of Utah and Nevada. The Colorado River, which flows through the canyon, drains water from seven states, but the feature we know as Grand Canyon is entirely in Arizona. Most of the Grand Canyon lies within Grand Canyon National Park and is managed by the National Park Service.