Grand Canyon Airplane Tour From Las Vegas
Grand Canyon
Tribal Spirit Tour
DETAILS & TIPS
Take an airplane to the Grand Canyon where you'll board a luxurious, ECO-Star helicopter ride to intimate views of the ancient wonder.
Experience a breathtaking West Rim airplane tour with a helicopter ride to the bottom of the Grand Canyon.
Travel by plane to the Grand Canyon, where, upon landing, you'll board a luxurious, ECO-Star helicopter for a relaxing trip through the Grand Canyon. But the adventure doesn't stop there, as you'll descend and land 3,500 feet below the rim to a landing site above the Colorado River. Return to the top of the canyon and you'll be allowed to explore famous sites and experiences like Eagle Point, Guano Point, and if you're a real daredevil, the additional cost, glass-bridge Skywalk.
This seven-hour tour (hotel to hotel) is a must while visiting Las Vegas.
---
Locations: Grand Canyon
Tour length: 360 minutes
Air time: Approximately 40 minutes total air time (20 minutes each way).
Transportation type: Plane, helicopter
Special requirements: None
Tour Times: 9:00a.m.
Prices From: $504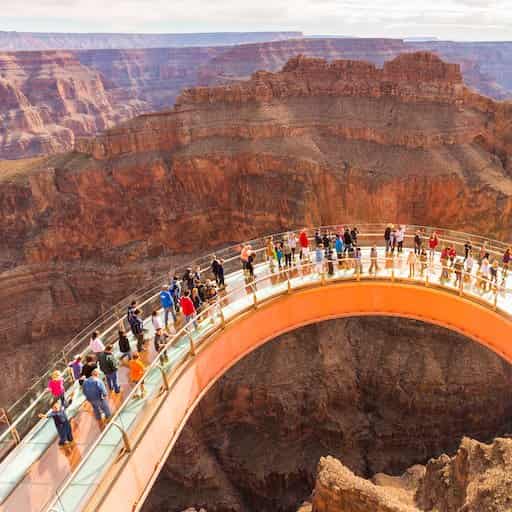 Grand Canyon Tours
from Las Vegas

Grand Canyon is in the northwest corner of Arizona, close to the borders of Utah and Nevada. The Colorado River, which flows through the canyon, drains water from seven states, but the feature we know as Grand Canyon is entirely in Arizona. Most of the Grand Canyon lies within Grand Canyon National Park and is managed by the National Park Service.