Grand Canyon Tour From Las Vegas
Grand Voyager Airplane, Heli & Boat Tour
DETAILS & TIPS
This 3-in-1 Grand Voyager Airplane Heli & Boat Tour includes an airplane, helicopter, and pontoon boat adventure. You'll have the best of all worlds.
For an additional cost, guests may purchase a Skywalk bridge upgrade.
---
Locations: Grand Canyon, Colorado River
Tour length: 420 minutes
Air time: Approximately 90 minutes of the total (plane and helicopter).
Transportation type: Plane, helicopter, boat
Meals included: A light meal is included.
Tour Times: 6:15a.m., 9:15a.m., 11:30a.m.
Special requirements: Guests must sign a waiver. Those weighing more than 275 pounds (300 pounds on the EC-130) must purchase an additional seat.
Prices From: $449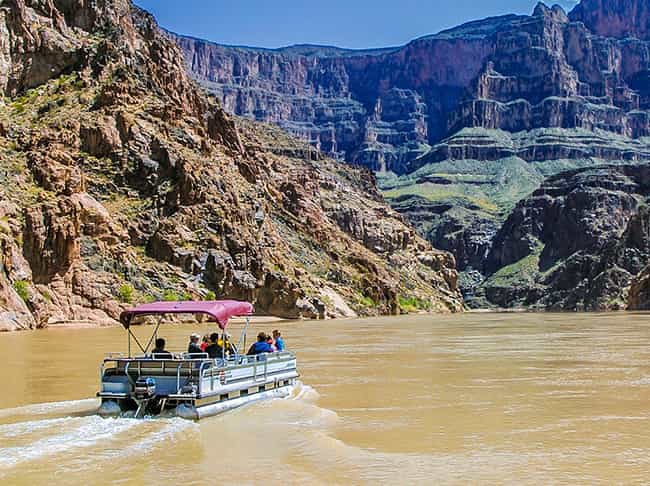 Grand Canyon Tours
from Las Vegas

Grand Canyon is in the northwest corner of Arizona, close to the borders of Utah and Nevada. The Colorado River, which flows through the canyon, drains water from seven states, but the feature we know as Grand Canyon is entirely in Arizona. Most of the Grand Canyon lies within Grand Canyon National Park and is managed by the National Park Service.